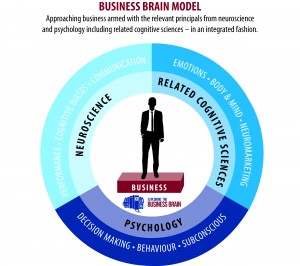 While certain aspects of neuroscience, psychology and related cognitive sciences have been studied in the context of their effect on business interactions and decisions, there has not been a systematic attempt to fully integrate these principles and apply them to business practice from the perspective of business leaders. Branded the 'Business Brain Model℠', this is the objective of the original writings by W.B. (Bud) Kirchner, an internationally known innovator in the world of business and philanthropy.
Kirchner Group via its Kirchner Impact Foundation (KIF) – in collaboration with the College of Business and Economics (CBE) at the University of Guelph – is committed to exploring and promoting the integration and understanding of neuroscience, psychology and related cognitive sciences within business contexts. Through the efforts of both parties, the so named 'Business Brain Model℠' will be further developed, and promoted within academia and industry. The 'Business Brain Model℠' is not presented as a magic bullet, but rather as a means for promoting metacognition (thinking about thinking), and contributing to enhanced business success.
Kirchner Impact Foundation (KIF), is a non-profit organization that serves as one of the "returning" arms of Kirchner Group. KIF harnesses the positive power of enterprise to make a difference in addressing some of the most important issues of today and reflects our belief that all businesses should contribute to a positive human future.
The College of Business + Economics at the University of Guelph provides a unique transformational learning environment that encourages critical reflection, personal growth, community engagement and global awareness, and promotes comprehensive understanding of both traditional and emerging themes in management and economics. Its vision is to develop business leaders for a sustainable world.
It is KIF's aspiration that through the 'Business Brain Model℠', business leaders will be able to make better decisions, run better businesses, and lead better lives. It is CBE's aspiration that the 'Business Brain Model℠', will provide business faculty and students (the business leaders of tomorrow) with enhanced practical ideas and examples by which to better critique, apply and understand related subjects, and learn valuable skills. KIF and CBE believe this is an important and essential example of industry and academic collaboration; powerful lessons can be learned at the intersection of theory, experience and practice.
KIF has provided a significant inventory of material written by Bud Kirchner, to establish this digital library. Bud will also actively participate in dialogue with CBE faculty and students including through select campus visits. Future plans also include KIF providing academic awards as an additional component of the collaboration. CBE will maintain and administer the digital library as well as work to promote and solicit additional materials from other sources in working to establish a master resource on the topic. Certain CBE faculty will also begin to incorporate some of the concepts and theories into relevant courses.
The publicly available digital library is designed to stimulate ongoing dialogue and delve into the principles of neuroscience, psychology and cognitive sciences that are behind successful business endeavors and the behaviour of entrepreneurs. It draws on publicly available research-based resources, scientific papers, personal insights and experience while introducing a new holistic approach to business. The material features many business-related anecdotes ranging from the most pragmatic (making money) to the most philosophical (making the world better), proving the two are not mutually exclusive aims.
About the Author
"Victories in business are defined by margins so narrow that every little advantage matters."
~ W.B. "Bud" Kirchner
W.B. "Bud" Kirchner is a an internationally known innovator in the world of business and philanthropy. He has more than 50 years of operational, transactional and asset management experience. He is the Founder and CEO of Kirchner Group as well as co-founder of the Food Security Group, Kirchner Food Fellowship, the Crestline-Kirchner Private Equity Group and the Christopher Douglas Hidden Angel Foundation. Kirchner is also a serial sponsor of Impact Activities like the 'Business Brain Model℠' via the Kirchner Impact Foundation.
"Some businessmen just have a knack for success: they know how to create it, grow it, manage it and even snatch it back from the brink of failure." ~ Bob Scully, PBS Interviewer and Public Television Person of the Year
"It truly is awe-inspiring to meet such generous and selfless people that are doing so much good in this world." ~ author of Blog for parents with autistic children