Yin and Yang: Finding Balance Between Tacit & Explicit Knowledge
June 6, 2019 ~ Written by: W.B. "Bud" Kirchner
Approx. Read Time: 5 Minutes
Background
For those who know me well, you would find a certain irony in my spending so much time on the theories behind the Business Brain Model. My career (How Did I Get Here From There?) in particular, and to a large degree, that of most of our team at Kirchner Group, is based on decades in the trenches – and this has become a significant competitive advantage. (The Holistic View of Conducting Business)
In this regard, we take great comfort from the words of Albert Einstein: "The only source of knowledge is experience."
So, while what we have may not be pure tacit knowledge (that is knowledge that's difficult to write down, visualize or transfer from one person to another), our skillset goes beyond simple 'book learning'.
Learning to Ride a Bike
This discussion puts me in the mind of Polanyi's description (Michael Polanyi, Personal Knowledge), which I have put into a stepwise format:
When the subject starts falling to the right, he turns the steering mechanism to the right, so that the course is deflected along a curve towards the right.
This action results in centrifugal force pushing to the left and offsets the gravitational force pulling to the right.
"A simple analysis shows that for a given angle of unbalance the curvature of each winding is inversely proportional to the square of the speed at which the operator is proceeding."
It is hard to imagine a more precise description. Could you take this and ride a bike? Even if you could adjust the curvature of your bicycle's path in proportion to the ratio of your unbalance over the square of your speed? Even if you knew for a given angle of unbalance, the curvature of each winding is inversely proportional to the square of the speed at which the cyclist is proceeding?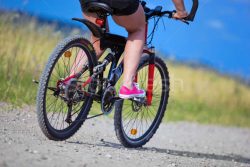 In short, there is only one way to learn to ride a bike – get on the saddle. This is truly tacit knowledge.
As the ever-relevant Mark Twain puts it: "A man who carries a cat by the tail learns something he can learn in no other way."
Or, just as poignantly by Pete Seeger "Do you know the difference between education and experience? Education is when you read the fine print; experience is what you get when you don't."
In rebuttal, we go to the other extreme for a source with the German philosopher Immanuel Kant: "Experience without theory is blind, but theory without experience is mere intellectual play."
Practice What You Preach
Do I believe it is really about theory which I preach or experience which I practice?
Fortunately, it is inherent in the essence of business that for true success, you must be able to leverage the relevant (explicit vs tacit) knowledge based on research and trial and error with the subtleties that are learned only as you hold on to a cat's tail. In other words, you are best served with complimentary skills/experience – a combination of both – and not the exclusion of either.
This takes us full circle back to neuroscience, psychology and related cognitive science per the Business Brain Model, which are so relevant to communication, turning experience into decisions, persuasion etc. (Does your Business Quiver have an Essential Arrow?)
In some ways, one could argue the essence of the Business Brain Model is the glue that joins the tacit/explicit perspectives.
Our team, by design, has supplemented our highly experienced people with those having incredible technical skills (academic training etc.) as we are mindful of the concept of 'Yin and Yang' which illustrates the value of complimentary perspectives as further illustrated by the Dutch philosopher Soren Kierkegaard: "Life can only be understood backwards; but it must be lived forward."
About the Author: W.B. "Bud" Kirchner is a serial entrepreneur and philanthropist with more than 50 years of business success. He is not a scientist or an academic but he does have a diversified exposure to neuroscience, psychology and related cognitive sciences. Generally speaking, the ideas he expresses here are business-angled expansions of other people's ideas, so when possible, he will link to the original reference.