From the Sublime to the Ridiculous
A juxtaposition of a few powerful words with a preponderance of memorable ones
June 14, 2021 ~ Written by: W.B. "Bud" Kirchner
Approx Read Time: 5.5 Minutes
"Nothing is so strong as gentleness, nothing so gentle as real strength." – Saint Francis de Sales
Background
Question: What does a fierce warrior culture find in common with a humorist/journalist?
Answer: A focus on the salient issues of being human.
My reference to 'ridiculous' in the title is not intended so much in the literal sense of ludicrous as much as the use of simple language with a humorous undertone. My use of the description ridiculous is in the context of something humorous including (at least in my mind) a light description of a heavy topic.
In fact, from a 'neuroscientific' point of view, it is these characteristics that make Mark Twain quotes so memorable.
As always, I am intrigued when two different approaches can lead to the same endpoint. I am also intrigued when paradoxes manifest themselves via clear illustrations.
Looking back to our 'roadmap' and its overview of upcoming blogs, this falls into the category of: "A situation, person or thing that combines contradictory features or qualities."
Bushido
According to The History of the Bushido Code: Principles of Samurai Culture (#2): "Bushido is a code of conduct that emerged in Japan from the Samurai, or Japanese warriors, who spread their ideals throughout society. Inspiration was drawn from Confucianism, which is a relatively conservative philosophy and system of beliefs that places a great deal of importance on loyalty and duty. The Bushido code contains eight key principles or virtues that warriors were expected to uphold."
"The word "bushi," a synonym for warrior, serves as a root for the word "Bushido." The word Samurai roughly translates to "those who serve," but has come to mean warrior. To understand the foundation of the Bushido code, one must examine the history of the Samurai."
"The history of the Samurai began in the eighth century when armed supporters of wealthy landowners began to be known as Samurai. Toward the end of the 12th century, power in Japan shifted and the Kamakura Shogunate military dictatorship was established. During this time, leaders popularized the use of Samurai and codified their privileged status."
Clearly, a culture of rigor and organization – as illustrated by the following succinct presentation of their key principles – accompanied by contradictory features.
Mark Twain
Thanks to Wikipedia and Bibliography.com, we can summarize the life of Mark Twain as follows:
"Samuel Langhorne Clemens is known by his pen name Mark Twain. He was an American writer, humorist, and entrepreneur who lived from the mid-1800's to the early 1900's. Much of his legacy is based on his travel narratives and two major classics of American literature: The Adventures of Tom Sawyer and Adventures of Huckleberry Finn. He was also a riverboat pilot, journalist, lecturer, entrepreneur and inventor."
However, in my mind and for the purposes of this article, I would say he was particularly talented at putting profound thoughts into a lexicon that resonated. Incidentally, I believe this is the description he would have preferred.
Illustration
The following Bushido text is replicated from The History of the Bushido Code: Principles of Samurai Culture: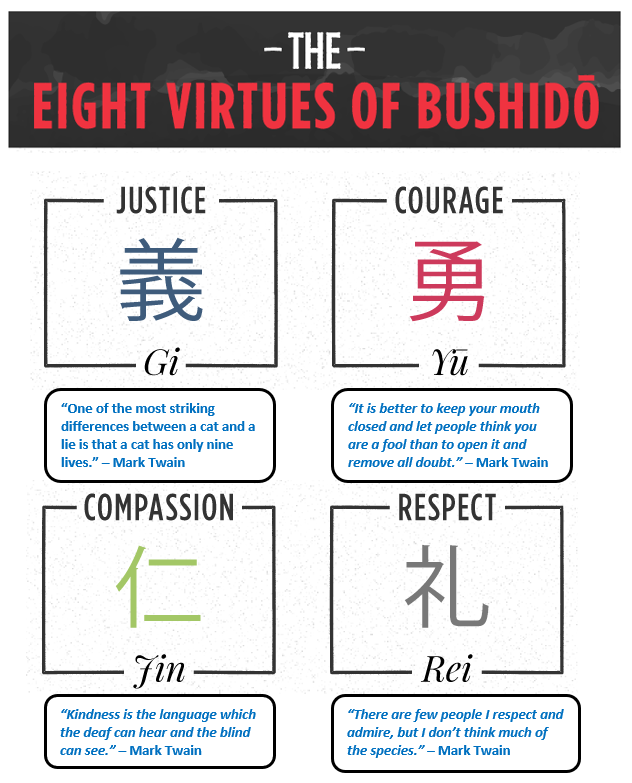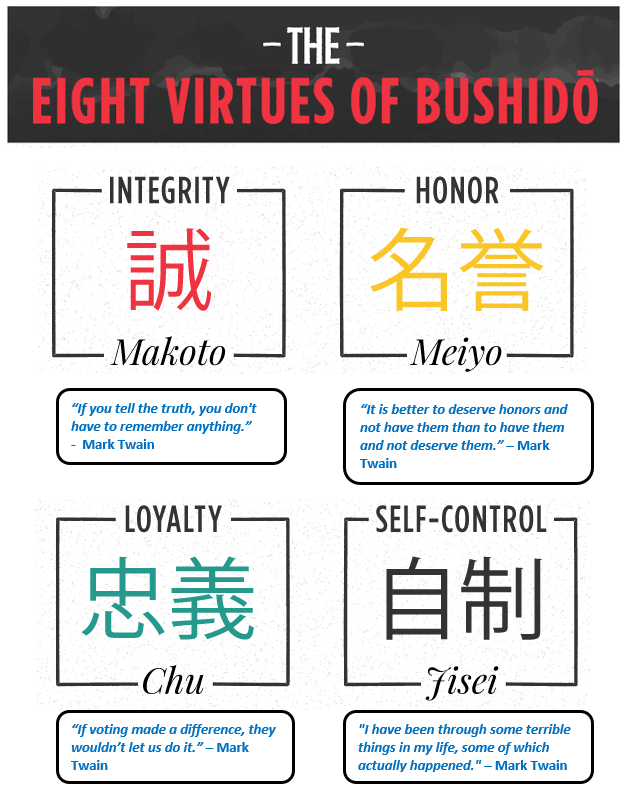 Postscript
According to Dictionary.com as it cites in The Age of Reason (1794), Tom Paine is said to have commented "the two (sublime and ridiculous) are so closely related that it is but one step from one to the other, the phrase has been often repeated in either order." (#1)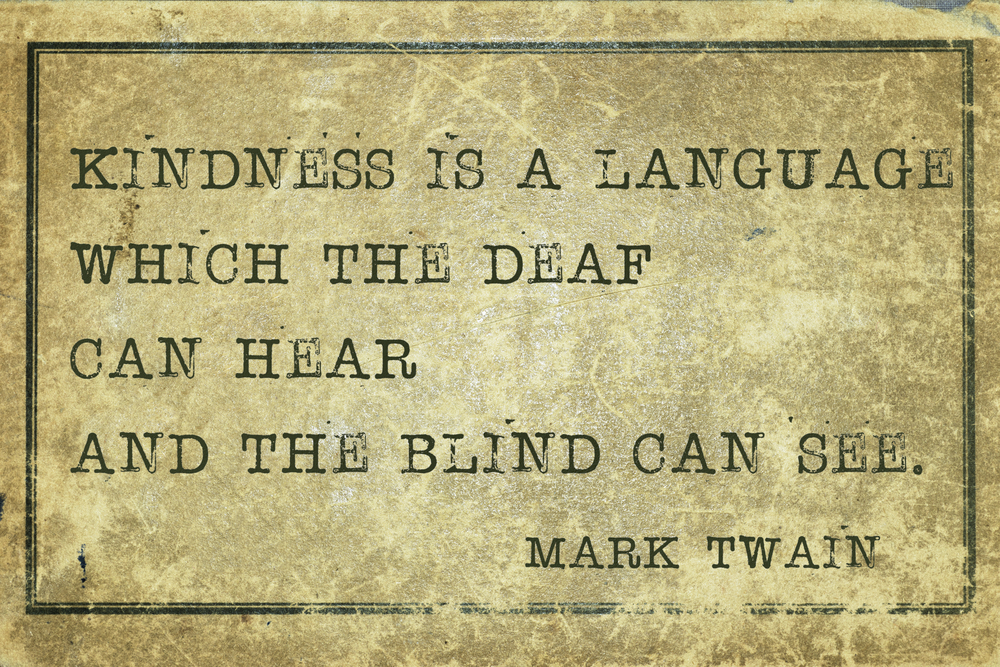 This is, of course, another variation on the (paradox) theme we started with – as we appreciate "light" words carrying a lot of weight. consistent with the theme of the Business Brain Model, I trust the preceding is a good example of effective communication.
Finally, I choose to give the final words that are arguably amongst his most profound to Twain. As we find ourselves living in a world that demands introspection to understand where we should be/what we should do.
"The two most important days in your life are the day you are born and the day you find out why."
Bibliography
Dictionary.com – Tom Paine
Invaluable.com Blog – The History of the Bushido Code: Principles of Samurai Culture
Wikipedia and Biography.com – Mark Twain
About the Author: W.B. "Bud" Kirchner is a serial entrepreneur and philanthropist with more than 50 years of business success. He is not a scientist or an academic but he does have a diversified exposure to neuroscience, psychology and related cognitive sciences. Generally speaking, the ideas he expresses here are business-angled expansions of other people's ideas, so when possible, he will link to the original reference.