Worrier vs. Warrior
Written by: W.B. "Bud" Kirchner and Dr. Patrick McNees
Approx. Read Time: 9 Minutes
Background
"The secret of health for both mind and body are not to mourn for the past, worry about the future, or anticipate troubles, but to live in the present moment wisely and earnestly." – Buddha
The use of the terms "worrier" versus "warrior" is not new.[1] Yet, the actions of the true warrior addressing real-world complex threats is not often articulated. The COVID-19 pandemic provides a pressing opportunity to illustrate what a warrior looks like in a COVID world. Thus, this article's primary focus is on a couple of examples of true warriors who live in the present moment and do that wisely and earnestly.  The importance of understanding worriers versus warriors will hopefully become clear as you read on.  We also hope that the article might support you or provoke you to consider how you might become more of a warrior.
However, before delving into the worrier – warrior story, we believe it is also important we provide a contextual framework for why, we at Kirchner Group, think it relevant to address the topic.
"Creating Value While Promoting Values"
Kirchner Group embraces and is driven by a deep belief that we should never lose sight of core reasons for our existence and our shared vision: (1) create value while (2) promoting values. Our dedication to this principle is not only reflected in our words but also in actions – we walk the talk! Please feel free to visit the websites for our Impact Foundation and Philanthropic Foundation to learn more.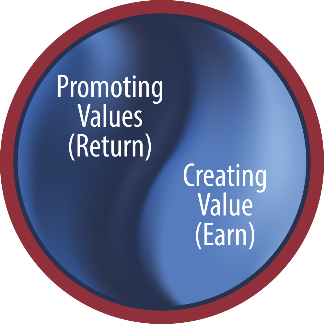 We have also developed a graphic to illustrate how intrinsically these are related in our culture.
We are living in a world where there are many reasons to agonize…. to navel-gaze… to worry. Only the most passionate, focused and strongest will step forward and be proactive to improve their lot and that of others. This ancient Zen adage addresses this call-to-arms:
"Be a warrior, not a worrier."
Be a warrior, not a worrier. What an amazingly simple yet perplexing concept; easy to understand, yet too often the concept is not translated into execution. It is also a concept that has been considered for at least four centuries; and perhaps since our species began reasoning[2]. One explication of the concept is the secular Buddhist practice of 'recalibrating' one's mind into increasingly positive perspectives regardless of what life throws at us. And this goes way beyond the adage that "when life throws you a lemon, make lemonade".
At Kirchner Group we have a strong propensity to "tell a story" (develop a paradigm) to elucidate a concept or make a point clear. Thus, the context of this article is intended to provide two brief stories of the initiative of two extraordinary individuals (and their teams) actively involved in 'accepting the challenge' and in doing so giving back.
Their stories are remarkable and if we have done justice in telling them – your heart will be touched and your brain will be stimulated. For they both are indeed, true warriors.
Although, we have stayed in communication and coordination with the "heroes" of the stories regarding details and accomplishments, we absolve these two warriors of story errors or omissions.
We hope their stories are inspirational. Better yet – we hope the stories encourage readers to support these and similar warriors. Perhaps you might consider becoming a better warrior yourself.
"Stories of Two Warriors"
Warrior #1
"Helping one person might not change the world, but it could change the world for one person." Zen adage
In the best of circumstances, the challenges of COVID-19 can be overwhelming for individuals and organizations based in regions of our country and with populations that do have a 'fighting chance'. That is to say they have adequate infrastructure, numerous trained individuals, appropriate resources, etc.
Now imagine a region that houses some of the poorest, most disenfranchised people in America. A place of unbelievable poverty exacerbated by few or no employment opportunities and limited infrastructure. Hope for change seems to be a wasted fantasy. A place where dreams may be most often – and perhaps realistically – dreams of simple survival. Yes, there are such places in the United States. Places where most people are disenfranchised and vulnerable. Places where perhaps those that are the most disenfranchised and vulnerable are our children and others with disabilities and/or other special needs.
The Black Belt
Surely, the following statistical picture would defeat almost anyone. "The Black Belt counties have some of the worst COVID infection rates in Alabama and also took the hardest hit from unemployment during the economic shutdown, with many counties having jobless rates near or above 20%."
It would be misleading to suggest that there is no outside help:
"It's not that government isn't helping: more than $4 million in pandemic assistance grants will go to agencies that serve Black Belt counties in Alabama. The money will help provide food, rent and medicine. Small-town coronavirus testing stations also have opened, so residents don't have to travel to bigger cities to learn if they may be spreading the virus."
However, a key to our theme- Worrier vs. Warrior- lies in the next sentence. "But the region also has mobilized to help itself."
This seems to be an indication that some individuals are acting like warriors not worriers. And one of those individuals is Felecia Lucky.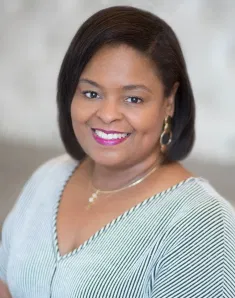 Let us set the stage for an appreciation of Felecia, (Warrior 1) by directing you to: A daughter of the Black Belt is inspiring a renaissance in the state's poorest regions and Women's History Month: Felecia Lucky leads the Black Belt Community Foundation. We encourage you to read these entire articles – they are stories worth reading – and remembering!
Felecia Lucky is an outstanding example of a warrior – in every sense of the word!
By way of context, we first spoke with Felecia due to our passion for helping children with special needs and concern of how these special individuals were being served in the midst of COVID. One can only imagine children being marginalized and feeling destitute.
With this context, we want to describe a very warrior-like initiative addressing one of the most basic requisites for human existence: adequate food and nutrition.
Imagine the challenge of getting adequate nutrition to individuals that in many cases have none of the typical communication devices (phone – TV– Internet) and limited or no transportation options to coordinate a supplemental food program. Now add to this the challenge of individuals (especially children) with special needs. To further complicate the situation these individuals are typically highly sensitive to changes in routine – including even brief relocation. And yet under the prevailing circumstances the 'solution' is too often for families to somehow locate transportation and 'go to the food' rather than the 'food coming to them'. For special needs children, the effect at best can be a challenging ordeal. At worst it can be emotionally and sometimes physically devastating.
As it turns out Felecia had a reputation for "getting things done". This had attracted some attention from a concerned individual who in turn provided some additional financial resources to try to directly address the situation.
Given the physical and emotional load Felecia was already carrying at every level of the community and the world around it, she could have easily taken the path of least resistance and simply bought more food, etc. and challenged families to get to the food. Of course, this was a "solution" that was already not addressing the real need. So, doing more of it made little or no sense. Worst yet, faced with overwhelming challenges she could have relegated the case to the 'impossible stack' on her desk. However, Felecia took a radically different actively focused approach. She realized the challenge, yet accepted it as an opportunity for focused change and formulated a plan.
She first challenged her staff that were out in the communities: "How can we deal with this?" After perhaps initial shock that one can imagine, one can also imagine the outpouring of ideas from people who are close to and understood the challenges in potential solutions. People who would have probably also felt empowered to make a real difference; become warriors themselves.
While there is an incredibly complex pool of nuances, for brevity, we will cut to the answer that Felecia and her colleagues devised: Rather than having people go to the food the food would go to the people; in many cases people who lived rather remotely from where they might have to go to access the food. More specifically, Felecia and her team decided to use the supplemental resources to purchase equipment that could keep food hot and/or cold and would go in the vehicle to be delivered to the child.
To the point – Felecia could have worried her way into inaction, but rather she performed as a warrior for "the most special of people" by showing up with a quiver full of arrows that – in addition to food- included kindness, compassion and generosity of spirit!
Felecia's story is one that exemplifies someone who was concerned but not worried. Possible worry was replaced with plans, execution and action; signs of a True Warrior. Felicia's pragmatic approach and early success led the donor to provide still more resources reflecting a significant vote of confidence.
"There are no guarantees in life, except that everyone faces struggles. This is how we learn (and grow). Some face struggles from the moment they are born. They are the most special of all people, requiring the most care and compassion and reminding us that love is the sole purpose of life."– Elisabeth Kübler-Ross
You can step up and help this warrior and her team:
Black Belt Community Foundation
Ph# 334-526-0388 (Specific to donors)
Ph# 334-874-1126 (general office phone number)
e-mail: Felecia.Lucky@blackbeltfound.org
P.O. Box 2020 Selma, AL 36702
Warrior #2
"The mystery of human existence lies not in just staying alive, but in finding something to live for." ― Fyodor Dostoyevsky, The Brothers Karamazov
We first 'connected' with Dr. Marc Taub[3] based on a shared passion for neuroscience and sensory enrichment. Marc epitomizes an individual who has reached a point in his career that could open countless doors, yet Marc has chosen a different path. He has chosen to devote his life to "helping healers heal and leaders lead."
So, when COVID-19 hit he took the challenges and opportunities head on.To better grasp the breadth of Marc's experience and knowledge and the fabric of his character we use a couple of quotes from the article MemorialCare's Dr. Taub Finds Creative Way to Inspire Frontline Caregivers – which we encourage you to read.
"As Medical Director of Emergency Services at MemorialCare Saddleback Medical Center, Dr. Marc Taub was instrumental in ensuring MemorialCare's readiness for addressing the COVID-19 pandemic."
"What makes Dr. Taub stand out during this challenging time is the way he leads his team with love and compassion," said Marcia Manker, CEO, MemorialCare Saddleback Medical Center. "He never stops his pursuit of finding ways to inspire them so that they can provide the very best possible care to each patient who walks in the doors of their emergency room."
In the midst of the COVID-19 storm and its related complications, Dr. Taub has surfaced as a warrior on two fronts:
Building protocols and creating teams able to make critical decisions 'under fire'.
"COVID-19 has taken high stakes decision-making to a new level, with a new disease, unproven therapies, imperfect testing, and the continuous pressure of contracting the disease or causing it to spread it to others– all while wearing heavy personal protective equipment." A critical key to success has been his team's ability and willingness to rapidly develop and deploy standardized protocols and procedures, based on best (but limited) available evidence. This has required agile thinking, efficient deployment, and ultra-rapid team learning–applying the military concept that "rigid flexibility wins the war."
Marc understood the critical importance of what was to be done and how it was to be done in the ER. But he also understood the critical importance of maximizing resilience. .
He defines resilience as "the capacity to maintain homeostasis (balance) in the face of physical and/or mental stress, both real and perceived." Recognizing the battle against COVID-19 will require persistent effort for months or years, Marc promotes resilience for his team, and walks the talk. His recommendations for building resilience (i.e. effectiveness under pressure) include:
Physical: exercise, proper nutrition and hydration, sleep and rest
Mental: meditation, prayer, and other mindfulness activities
Social: nurtuting healthy relationships with family, friends, and colleagues
Spiritual: having faith in a greater someone or something watching over us; identifying and connecting to one's life purpose
Cognitive: Understanding common cognitive biases and other threats to effective decision making; putting in place safeguards and skills to prevent cognitive errors under stress.
As a measure of success – they haven't had a single health care worker contract the illness while at work in their ER. I note that to date this number is over 100,000-140,000 healthcare worker cases nationally.
Marc also understood the importance of creating an empathic, compassionate ER environment for those with special needs.
"I have spent the last few years dedicating much of my energy to improving emergency care for vulnerable patients with mental health illness and dementia. Our ER was recently designated as Orange County's first Geriatric ER!"
"For seniors, our focus is on what's known as the 4M's: mobility, mentation, medications, and "what matters most". Our hospital is making great headway as a certified "Age Friendly" Hospital. Sensory Stimulation is an important factor.
Marc notes these populations are especially vulnerable during the COVID-19 Pandemic and continues in his efforts to ensure their special needs are recognized and met.
While the above are, clearly, two separate contexts – we think the approach and protocols overlap.
For example:
By way of background – as the world started coming down around him, Marc turned to four of his personal advisors reflecting the attitude of warriors balanced by empathy and compassion. Marc turned to a:
Physician colleague with extensive military, disaster, and law enforcement expertise
Navy Seal Commander
Fighter Pilot
Baptist Minister
A relevant takeaway for those finding themselves in a similar situation, Marc's "tip sheet" is aimed at maximizing mental performance and decision-making through optimal health, resilience, teamwork, and situational awareness. By controlling what we are able to, that helps us make better decisions and combat the many biases that can creep in under such intense time and safety pressures.
You can step up and help this warrior and his team by supporting these organizations:
MemorialCare Saddleback Medical Center Foundation
Ph# 949-837-4500
24451 Health Center Dr Laguna Hills, CA 92653
National Alliance for Mental Illness
The Compassionate Warrior
As we considered Felecia and Marc's story and everything they have accomplished, we realized there was evidence of still another level of warrior that they clearly met the criteria for – we recognize them as what is sometimes called "Compassionate Warriors". The Compassionate Warrior is one who not only takes up the mantle for action in an often simple but elegant way but is also one who considers the milieu of human conditions and people dealing with those conditions through empathetic eyes and feelings and acts on that milieu with forceful, yet compassionate action. The Compassionate Warrior acts on behalf of those that can't act themselves. They are the leaders who worry as much about their wounded troops as they do about those they are leading into battle. We plan to expand on our concept of the Compassionate Warrior in future writings but at the core, the Compassionate Warrior is a Warrior characterized by empathy and compassion.
Salient Points
We hope that why one should consider becoming a Warrior is crystal clear. Yet it is no small task to distill the techniques for taking the warrior's approach. Yet there are takeaways;
Warriors turn to others in their battle.

Felecia asked her field workers what would be most useful/practical.

Marc turned to his military and religious 'team'

Warriors act while others ponder, ruminate or simply give up.
What are the takeaways for you the reader?
Use the Warrior's approach!
Share Felecia and Marc's stories with others!!
Find a way to support Felecia and Marc's activities!!!
In addition:
Go about your own activities with empathy and compassion!
Create and share your own story!!
Bibliography
Associated Press, The – Alabama's Black Belt, one of America's poorest places, struggles with COVID-19, unemployment
Greater Irvine Chamber – MemorialCare's Dr. Taub Finds Creative Way to Inspire Frontline Caregivers
---
[1] In fact, the terminology regarding "worrier-warrior" has been used to label a wide range of phenomena; from the Buddhist recalibration of perspective… to classification systems based on how quickly individuals process dopamine… to child rearing practices.
[2] It is noteworthy that the human species would likely not have survived, much less evolved without a propensity for action. Indeed, nature seems to place great value on action versus inaction and the warrior is more frequently rewarded.
[3] It is noteworthy that Marc is the son of Dr. Edward A. Taub, a nationally recognized expert and pioneer in the field of Integrative Medicine. Ed and Bud had a number of interactions that led in part to Marc and Bud's introduction.